Special Therapies

BACK MASSAGE (Essential Back Treatment)
A unique deep cleansing of the back, neck and shoulders. A herbal paste will be applied and rubbed off removing impurities in the not-so-easy-to-reach areas. A massage with oils release tension and stiffness, leaving skin smooth, soft and supple.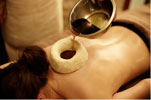 GREEVA BASTI ( Neck / Shoulder Treatment )
This treatment addresses cervical spondylosis, neck pain and stiffness. Neck related disorders, if left untreated will develop into numbness in the arm and fingers, weakness of the hands and tingling sensations in the fingers. In this treatment warm oil is retained in a dough ring over a specified period of time on the cervical region.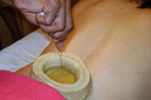 KATI BASTI (Lower Back Treatment)
Kativasti is a specialized local treatment to alleviate lower back pain. Poor posture, prolapsed invertebral disk or strained ligaments and muscles can also be the cause of sudden or gradual onset of low back pain, as a result of aggravated Vata. Some times, low backache may be associated with sciatica, a typical condition characterized with pain radiating from the lower back to the rear of either one side of leg or both legs. Also bring relief to spondylosis.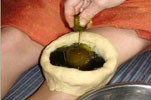 JANU BASTI ( Knee Treatment )
This treatment is specifically addressed to relieve knee joint pains. In this procedure, warm medicated oil is retained on the sore knees for a specified period of time. It will also bring relief to crepitus and stiffness of the knee associated with arthritis and degenerative conditions. A treatment regime for 7 to 14 days of gulfavasti, coupled with other complementary treatments of the Podikizhi, followed by rest and a sensible lifestyle would bring change for the better.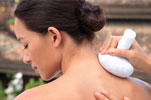 KIZHI / PINDA SWEDANA ( Pottali Massage )
This is a process by which hot medicated rice pudding in cloth bags are applied to the whole body. It will induce sudation, offer a better physical consistency, strengthen the nerves and best of all improve overall complexion. This treatment is a boon for sports enthusiasts, as it will address pains related to the joints and sore muscles. This is a nourishing as well as a deep cleansing massage and sweating. This treatment is used for Spondylitis, Arthritis, Backache, Sciatica, Muscular Pain etc.